Blue Screen Troubleshooter is yet another addition in Windows 10 Anniversary Update. This Troubleshooter pack finds the root cause of Blue Screen errors (commonly known as "BSOD") you may be experiencing in your computer, and helps you fix them.
Running the Blue Screen Troubleshooter
Open Control Panel, change the view setting to icons.
Click Troubleshooting, and click "View all" in the tasks pane.
Click "Blue Screen". This opens the Blue Screen Troubleshooter.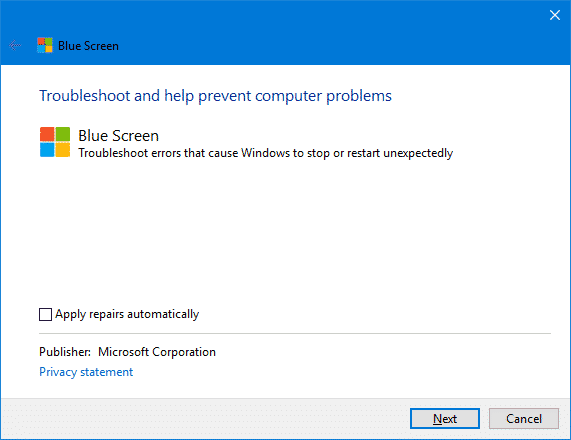 By default, "Apply repairs automatically" is enabled as is the case with all Windows Troubleshooter packs. If you want to just run the tool without automatically fixing anything, click Advanced and uncheck "Apply repairs automatically". Click Next.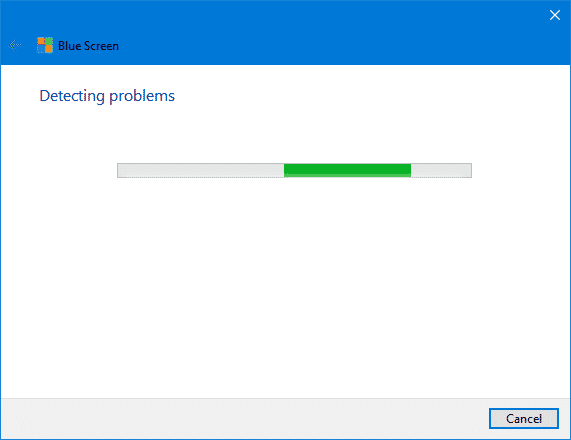 The troubleshooter interprets the bugcheck codes, and tells you if the blue screen crash was caused by:
Faulty hardware
Failing disk drive
Malware
Memory failure
Services
Device drivers
This tool queries blue screen event message(s) that occurred in the last 7 days, from Windows event log Microsoft-Windows-WER-SystemErrorReporting.
Blue Screen Troubleshooter Pack is a nice addition to Windows 10, and is certainly worth a shot before you fire up your debugger.
---
One small request: If you liked this post, please share this?
One "tiny" share from you would seriously help a lot with the growth of this blog. Some great suggestions:
Pin it!
Share it to your favorite blog + Facebook, Reddit
Tweet it!
So thank you so much for your support, my reader. It won't take more than 10 seconds of your time. The share buttons are right below. :)
---
About the author
Ramesh Srinivasan founded Winhelponline.com back in 2005. He is passionate about Microsoft technologies and he has been a Microsoft Most Valuable Professional (MVP) for 10 consecutive years from 2003 to 2012.