If you've just bought a new computer loaded with Windows 7 or Windows 8.1 with one of the Processors (CPU) mentioned below, note that Microsoft Updates will not be available for your system.
Intel seventh (7th)-generation "Intel Core" processor or a later generation
AMD seventh (7th)-generation ("Bristol Ridge") processor or a later generation
Qualcomm "8996″ processor or a later generation
In Windows 7 and 8.1 systems having the above CPU, when you use Windows Update, the following message will appear.
Unsupported hardware

Your PC uses a processor that is designed for the latest version of Windows.
Because the processor is not supported together with the Windows version that you are currently using, your system will miss important security updates.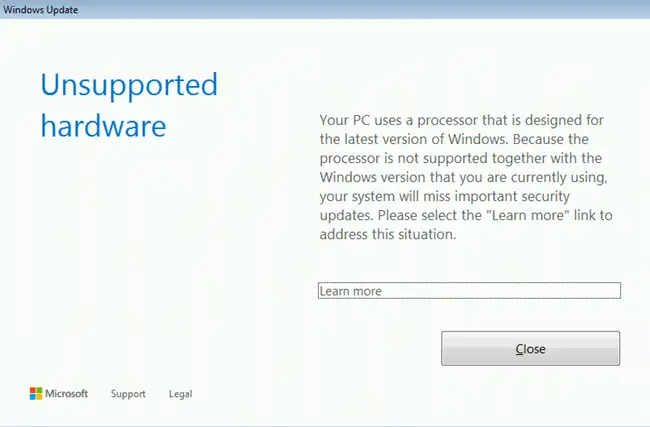 Additionally, the following error message will be shown.
Windows could not search for new updates
An error occurred while checking for new updates for your computer.
Error(s) found:
Code 80240037 Windows Update encountered an unknown error.

Because of how this support policy is implemented, devices that run the following Windows versions and that have a seventh generation or later generation processor may no longer be able to scan or download updates through Windows Update or Microsoft Update:
Windows Server 2012 R2
Windows 8.1
Windows Server 2008 R2
Windows 7
Microsoft recommends that you upgrade Windows Server 2012 R2-based and Windows Server 2008 R2-based computers to Windows Server 2016, and Windows 8.1-based and Window 7-based computers to Windows 10 if those computers have a processor that is from any of the above generations.
---
One small request: If you liked this post, please share this?
One "tiny" share from you would seriously help a lot with the growth of this blog. Some great suggestions:
Pin it!
Share it to your favorite blog + Facebook, Reddit
Tweet it!
So thank you so much for your support. It won't take more than 10 seconds of your time. The share buttons are right below. :)
---
Bypass Microsoft's Windows Update Block for Windows 7/8.1 for 7th Generation CPU
A developer has posted a method in
his GitHub page
to bypass the update block by Microsoft. It's supposed to disable the "Unsupported Hardware" message in Windows Update allowing you to continue installing updates on Windows 7 and 8.1 systems with Intel Kaby Lake, AMD Ryzen, or other unsupported processors. I haven't tested it personally. So you use it at your own risk.