After installing a Feature Update like Fall Creators Update, you may face yet another weird issue. Whenever the computer is restarted, the first screen that may show up even before the login screen is: "The username or password is incorrect. Try again."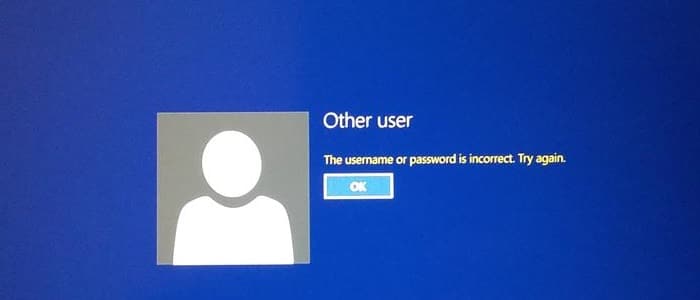 Note that the above screen shows up even before the Welcome screen is displayed; it appears even if you haven't had a chance to enter any username or password. After dismissing the above message, you can type the credentials in the login screen and log in successfully.
This is similar to the Fall Creators Update double sign-in issue discussed in post Sign-in Screen Appears Twice in Fall Creators Update, and the fix is exactly the same.
Also, if you're signed in to a user account (say, "User1"), and you restart the PC without explicitly signing out first. Then when you sign in as "User2" after boot-up, you might see that "User1" still shows as signed-in. In other words, the users are automatically logged in after every restart, which is an undesirable thing to happen.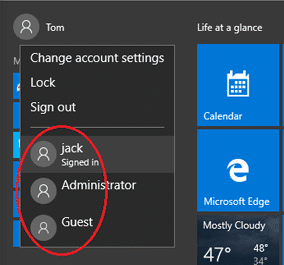 These issues are not due to the Fast Startup feature or netplwiz auto-login method.
[Fix] "The Username or Password is Incorrect" Error at Every Restart
The incorrect password error occurs only when the setting Use my sign in info to automatically finish setting up my device after an update or restart is turned on. This setting is supposed to speed up the Windows update process by automatically signing in after a restart, and finishing setting up your device. Then your device is locked to help keep your account and personal info safe.
In Windows 10 v1703, this option was placed under Settings → Update & security → Windows Update → Advanced options.
Disable "Use my sign-in info" to fix the Windows 10 sign-in problem:
Click the Start button, select Settings
Click Accounts, and then select Sign-in options.
In the Privacy section, turn off Use my sign in info to automatically finish setting up my device after an update or restart.
Restart Windows.
Still, seeing the incorrect password error at startup?
To avoid the "The user name or password is incorrect" error in Windows 10 and to resolve the user account sign-in issues, here is a checklist for you to follow:
Make sure that your caps lock is not enabled if your password contains all lowercase letters.
An incorrect keyboard layout can prevent you from typing the characters in your password. In systems where multiple keyboard layouts are set up, make sure to select the correct keyboard layout for typing the password in the login screen. You can change the keyboard layout in the right bottom corner of the Windows 10 login screen. After changing the correct layout, your password should work.
Are you're using the same Microsoft account (MSA) (instead of a local user account) on multiple Windows 10 devices? If so, you must know that if you change the password on one computer, the same password must be used in other devices that use the same MSA. This is one major point that users often overlook.Additionally, if you've set up auto-login using Netplwiz.exe earlier, you'll need to clear it and reconfigure it again. For more information, see Setting up Automatic Login to Your Account.
From the login screen, click the Forgot my password link and reset your Microsoft Account password. You can reset it using an alternate email id or phone number. A security code will be sent to your alternate contact ID or mobile number to verify your account. Once verified and the password reset, sign in to your account using the new MSA password on all your Windows 10 devices. Alternately, from another computer, visit the Reset password link https://account.live.com/password/reset
If you're using a local account instead of MSA, you can reset the password using two methods:

On the sign-in screen, enter an incorrect password to open the option to reset the password. Select Reset password, answer your security questions, and then enter a new password. (or)
Enable the built-in administrator account via Windows Recovery Options and then reset your local user account password easily. See article How to Reset Account Password in Windows 10

If nothing helps, create a new user account by activating the built-in administrator account via Windows RE.
The last option is to contact Microsoft Support or fill out an account recovery form. If you have forgotten your Microsoft account password and don't have access to the security information on your account, the account recovery form is a tool that you can use to provide additional information so that Microsoft can make sure that you (and only you) gain access to your account.
I hope the information in this article helped you fix or workaround the Windows 10 "incorrect password" bug.
---
One small request: If you liked this post, please share this?
One "tiny" share from you would seriously help a lot with the growth of this blog. Some great suggestions:
Pin it!
Share it to your favorite blog + Facebook, Reddit
Tweet it!
So thank you so much for your support. It won't take more than 10 seconds of your time. The share buttons are right below. :)
---