When you open a Web page, the .PNG images in that page may not be displayed. Instead, a red X, or a placeholder, may appear in place of the images. However, all other image file types may display correctly in Internet Explorer.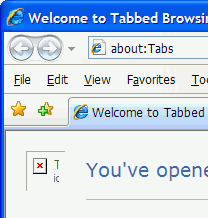 This problem may be seen after installing a third-party application which could have altered the file class and MIME settings for the .PNG file type. To resolve the problem, use these steps:
(For Windows XP and Windows Vista only.)
Download PNG_Fix.zip and save it to the Desktop. Unzip and extract the two files (pngasso_xp.reg and pngasso_vista.reg) to the Desktop. If you're using Windows XP, right-click pngasso_xp.reg and choose Merge. If you're using Windows Vista, right-click pngasso_vista.reg and choose Merge. Click Yes to confirm the merge operation. Additionally, in Windows Vista, you'll have to click Continue when you see the User Account Control elevation dialog.
The .REG files above should fix the file association and MIME settings for .PNG file types. File paths in the .REG files are hardcoded for C:\. If you have installed Windows in a different location than C:\, you'll need to edit the REG file(s) using Notepad and update the drive-letter and/or the Path accordingly.
---
One small request: If you liked this post, please share this?
One "tiny" share from you would seriously help a lot with the growth of this blog. Some great suggestions:
Pin it!
Share it to your favorite blog + Facebook, Reddit
Tweet it!
So thank you so much for your support. It won't take more than 10 seconds of your time. The share buttons are right below. :)
---