The preview pane in File Explorer shows you the preview for various file types in Windows 10 and Windows 11. Windows comes with a built-in set of preview handlers. In addition, third-party applications add their own handlers that can generate previews for their proprietary file types.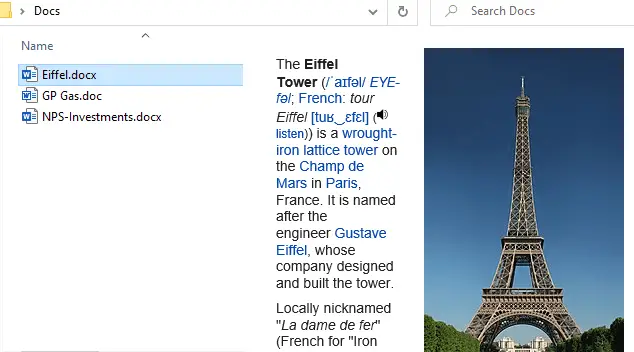 Windows allows you to turn on or off previews by enabling or disabling "Show preview handlers in preview pane" in Folder Options.
You may want to disable preview generation for a specific file type to improve performance. But, there is no built-in setting to disable preview generation (in the preview pane) for chosen file types. However, there is a handy tool that can accomplish the task.
This article tells you how to disable preview for certain file types in the Explorer preview pane.
Disable Preview for Certain File Types in Explorer Preview Pane
Let's say you want to disable preview generation for Microsoft Word documents — e.g., .docx, .doc, or other file types. Follow these steps:
Download Preview Handler Association Editor by Stephen Toub of Microsoft.
Unzip and run the program PreviewHandlerEditor.exe.

File name: PreviewHandlerEditor.exe
[SHA1] 217e64b9a4d143ecd36216ab4a86be5235b24fd1
[SHA256] 5008F954130454CC143272E4C527243B25E782168ED4F4C9AFB656B59055915B

The "Registered Handlers" dropdown box lists all the preview handlers registered on the computer. For example, select "Microsoft Word Previewer."

Remove the checkbox for .doc , .docx and/or other file types.

Close Preview Handler Association Editor.
No restart is required in most cases. Close all instances of File Explorer and reopen a folder containing Word documents.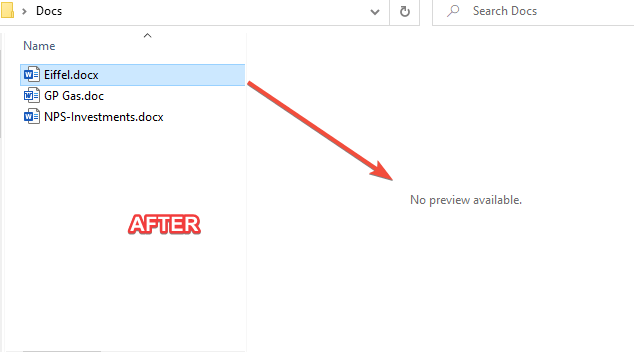 Selecting the Word document (.doc or .docx) would show the "No preview available" message in the Preview pane.
---
One small request: If you liked this post, please share this?
One "tiny" share from you would seriously help a lot with the growth of this blog. Some great suggestions:
Pin it!
Share it to your favorite blog + Facebook, Reddit
Tweet it!
So thank you so much for your support. It won't take more than 10 seconds of your time. The share buttons are right below. :)
---