Generic icons displayed for items in the Desktop and Start Menu, after uninstalling the "World of Warcraft" theme ?
Published: Dec 08, 2005
Send your feedback
Question
After uninstalling the World of Warcraft theme, the icons in the Desktop and the Start menu changed to a white icon. Resetting to Windows XP Theme does not help. And TweakUI Repair icons feature does not fix the problem. How do I resolve this ?
Resolution
Before uninstalling the Warcraft Theme, you need to revert back to the Windows XP Theme. The World of Warcraft theme package has a Theme Manager feature, which can help you revert back to the Windows XP style, and it does it very well.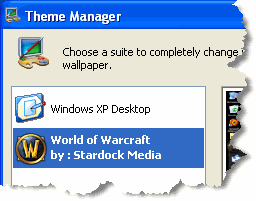 Reinstall the Warcraft theme again, and then run the file ThemeMgr.exe in the C:\Program Files\Object Desktop\ThemeManager folder. Then, choose the option Windows XP Desktop in the list box, and click Apply. If the above does not work, terminate all other running programs, and try again. Finally, you may uninstall the Theme from Add/Remove Programs, if you no longer plan to use the Theme.
Related article