Change IE Proxy settings quickly
Proxy Changer is a windows program that runs in the system tray and allows you to quickly change between proxy servers, or to quickly change proxy settings.
I use AnalogX Proxy server for one of my USB - Broadband connection, and the other connection uses a router. Often, I need to switch the Proxy settings in the client systems, whenever I switch the internet connections. Free IE Proxy Changer is a handy tool to toggle the Proxy settings, change to alternate Proxy configuration via the icon in the Notification area.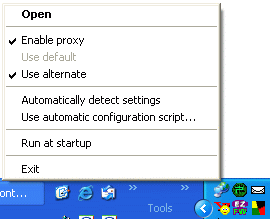 You can download Proxy Changer from here.