MSN Messenger Message History displays in XML format?
Published: June 22, 2005
Published: June 26, 2005
Send your feedback
Symptom
In MSN Messenger, when you click the View Message History option from the File menu and select the contact, the Message History for window might display the data in raw XML format rather than displaying the formatted results.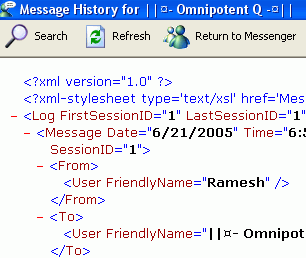 Resolution
The following solution was tested in a Windows XP SP2 system with MSN Messenger v7.0 (Build 7.0.0777) installed. To resolve the problem, try this command:
Click Start, Run and type REGSVR32 MSXML3.DLL and press Enter. Close and re-open MSN Messenger.
Note: The above has been tested in a Windows XP system. Running the command in a Windows 9x system may not work as there may be differences in the XML Parser module version.
If that does not work, see if this information helps.
You may send your feedback about this article here.