Customize the details shown in the "Details" portion of the Web view
Published: June 24, 2005
Send your feedback
Introduction
When you select a file in a folder, the Details section (in the left pane) displays the following details.
Filename, File type, Date Modified, Size, and Author name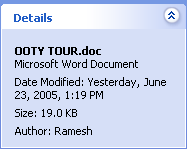 These present inside the the file Meta data. You may customize the Details pane to include more details such as the following (some may be applicable to Office documents):
File Category
Title
Subject
Number of pages
Keywords
To add more details, try this:
Open Regedit.exe and navigate to:
HKEY_CLASSES_ROOT\*
In the right-pane, create a new REG_SZ named Details
Double-click Details and assign the required Prop: values you want: (see Example)
Close Regedit
Example:
prop:DocAuthor;DocTitle;DocSubject;Write;DocPageCount;DocCategory;DocKeywords;DocEditTime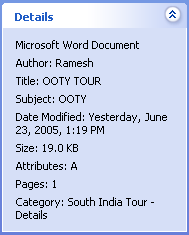 This MSDN article lists all the Properties.