Published: Sep 24, 2004
Send your feedback
Set the default browser for your user profile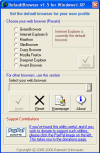 DefaultBrowser allows you set the default web browser for your user profile in Windows XP, without affecting the other users. The list of browsers you see in the Presets are tested and working flawlessly as user defaults. Note that the user interface in Windows XP does not provide an option for setting the default browser for each user.
This utility is designed for Windows® XP systems only.
Version History
v1.8 - (Mar 06, 2009) - Added support for Apple Safari
v1.7 - (May 14, 2008) - Added support for Firefox Portable Edition
v1.6 - (July 13, 2007) - Added support for Opera
v1.5 - (Sep 18, 2006) - Added support for Avant Browser
v1.4 - (Dec 01, 2005) - [Fix] Two Firefox windows opens when launching a URL
v1.3 - (Aug 23, 2005) - Added support for Deepnet Explorer and Maxthon
v1.2 - (Feb 18, 2005) - Maintenance release.
v1.1 - (Sep 24, 2004) - Added support for Mozilla Firefox.
Description
Apart from the Presets list, there is an option at the bottom which allows you choose the Web Browser program file and set it as the default. You may use this section if your favorite browser is not listed under Presets. As you read in the dialog, this method does not work with all the browsers. If the results are not satisfactory using this method, you can undo the configuration by clicking the Reset button.
Here is the list of Web browsers that I've tested (and working) for the per-user feasibility, and their versions:
Download
You can download DefaultBrowser from here.
Requirements
Administrator or Limited User account. Does not work under Guest account.
To successfully apply the per-user setting, choose No when your Web browser prompts to make itself the default.
How to undo the changes made by this utility?
To undo the changes made by this utility, click the Reset button once. The user default settings are removed and your profile uses the default browser which is defined globally.
Contact
You may send your feedback via this Web form.
Donations

If you liked the utility and if you wish to contribute, please visit the donations page.
Third-party trademarks
Third-party trademarks, product names and logos, contained in this website may be the trademarks or registered trademarks of their respective owners.
DISCLAIMER: This utility is a freeware, provided "as-is", without warranties of any kind. The author will not be liable for any special, incidental, consequential or indirect damages due to loss of data or any other reason.
Related resources