How to troubleshoot the "Delphi Error"
---
These errors are caused by a adware DLL which was compiled with a trial version of Delphi. This DLL attaches with Internet Explorer as a Browser Helper Object [BHO] and causes Internet Explorer process to terminate as soon as IE is launched.

Downloads Ads from the following sites:
http://iads.adroar.com/ie/ad/index.php
http://iads.adroar.com/ie/update2/index.php
http://iads.adroar.com/count.php?cpr2',0000h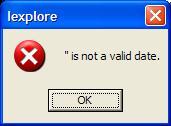 Manual Removal:

1. Start Windows in Safe Mode and access Add/Remove Programs applet from Control Panel
2. Uninstall CPR
3. Locate the file named CPR.DLL in the system and Delete it.
4. Restart Windows

IMPORTANT: If you are unable to uninstall CPR, rollback the system date or change to year 2002 *temporarily*. Complete the uninstall process and restore the original Date/Year.

(Or) Use the REG script here: After applying the REG, delete the CPR.DLL file.
Workaround: Disable Third-party browser extensions in Internet Explorer.
NOTE: Download Ad-Aware from www.lavasoftusa.com and update it to the current definitions using "Web Update" feature.


Related

This module was compiled with a trial version of Delphi. The trial period has expired.: http://bdn.borland.com/article/0,1410,31856,00.html
Symantec Security Response - Adware.AdRoar
http://www.symantec.com/avcenter/venc/data/adware.adroar.html
Symantec Security Response - Adware Listings:
http://sarc.com/avcenter/expanded_threats/adware/
Download HOSTS file from Mike Burgess' site:
http://www.mvps.org/winhelp2002/hosts.txt
---