Recently I came across a problem where the Windows Search service failed to auto-start, and manually starting the service using Services MMC resulted in Error 1053, with the following error message verbatim.
Windows could not start the Windows Search service on Local Computer.
Error 1053: The service did not respond to the start or control request in a timely fashion.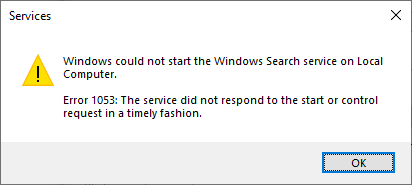 And the following entry is recorded in the event viewer.
Log Name: System
Source: Service Control Manager
Event ID: 7009
Task Category: None
Level: Error
Keywords: Classic
User: N/A
Computer: WIN10PC
Description:
A timeout was reached (30000 milliseconds) while waiting for the Windows Search service to connect.
If you attempt to start the service using the "net start wsearch" command, you may see the following error:
The service is not responding to the control function.
Because the Windows Search service failed to start, the indexing doesn't run, and the controls in Indexing Options are dimmed out.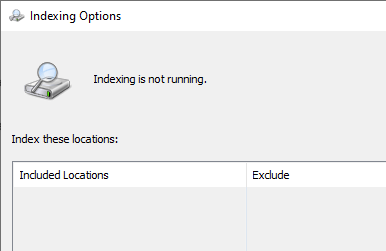 Note that the Windows Search (WSearch) service is set to start automatically (delayed start) by default.
Fix for Windows Search Error 1053
To resolve the problem, download the registry fix (info) below for your Operating System.
Unzip and apply the enclosed REG file. Then, open Services MMC (Services.msc), right-click Windows Search, and click Start.
Some users have indicated that applying the following fix also resolves WSearch error 1053:
Fix Windows Search Service Error 2 After Upgrading Windows
---
One small request: If you liked this post, please share this?
One "tiny" share from you would seriously help a lot with the growth of this blog. Some great suggestions:
Pin it!
Share it to your favorite blog + Facebook, Reddit
Tweet it!
So thank you so much for your support. It won't take more than 10 seconds of your time. The share buttons are right below. :)
---