Windows 10's Mail app comes with some stock images and preset solid colors from which you can choose one for the background. However, if you want to set a custom background color, such as plain white, you can do so by creating an image file using Paint.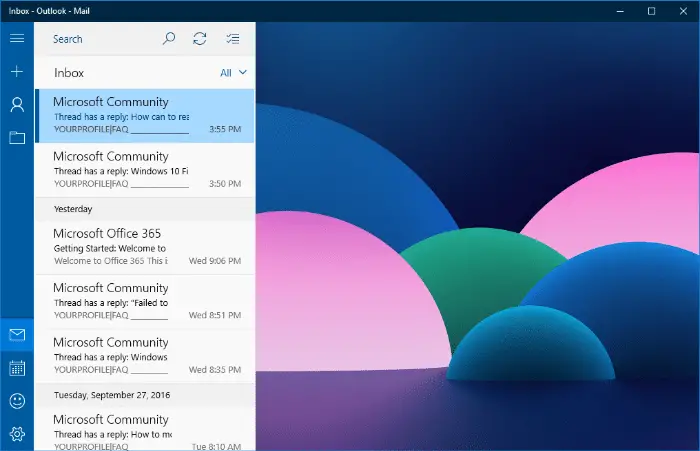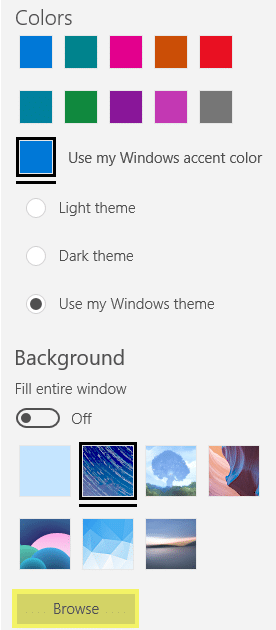 Setting Mail App Background Image or Color
Open Windows 10 Mail app, and click Settings – gear icon in the bottom left.
Click Personalization. The Personalization panel has 10 predefined color choices, and also allows you to set the current Windows Accent color as the Mail app background.
To set a white background, open Paint and create a tiny image file and save it ("white.jpg") and close Paint.
Switch to the Mail app, click Browse in the Personalization window and select the image file you created.
This changes the Mail app background to plain white.
Removing the Custom Image from Personalization panel
The Mail app converts the custom image file to .jpg if the origin file format is different, and copies it to the following location.
%LocalAppData%\Packages\microsoft.windowscommunicationsapps_8wekyb3d8bbwe\LocalState
The converted file is named "bg.jpg". To clear the custom image thumbnail from the Personalization panel in Mail app, browse the above path using File Explorer and simply delete this file.
---
One small request: If you liked this post, please share this?
One "tiny" share from you would seriously help a lot with the growth of this blog. Some great suggestions:
Pin it!
Share it to your favorite blog + Facebook, Reddit
Tweet it!
So thank you so much for your support. It won't take more than 10 seconds of your time. The share buttons are right below. :)
---