When you try to view the reliability history (Reliability Monitor) of your computer via Control Panel or Action Center, the reliability history page may be completely blank/empty. This can happen if the Task Scheduler Service or RACTask scheduled job is disabled in your computer.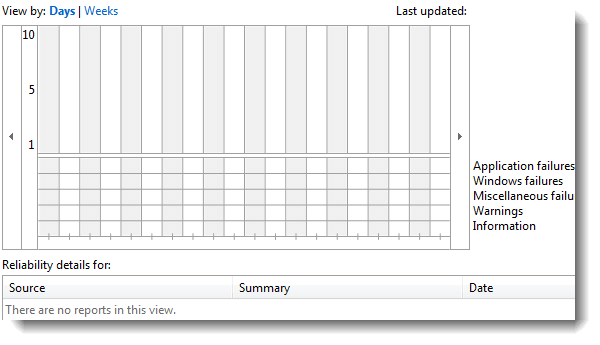 To re-enable tracking of events by the Reliability Monitor, use these steps:
Verify if the Task Scheduler service is started/running
Click Start, type Services.msc and press ENTER
Double-click Task Scheduler.
Make sure if the Startup Type is set to "Automatic", and the "Service status" is mentioned as "Started". If that's not the case, download Task Scheduler service REG file from this article page, run the REG file and restart Windows. After rebooting, verify if the Task Scheduler service starts correctly.
If the reliability monitor still shows blank data even after starting the Task Scheduler, you may have to enable the RACTask scheduler job, as explained below ↓
Verify if the RACTask Job is Enabled
Click Start, type task scheduler, and click Task Scheduler from the list.
Expand Task Scheduler Library, expand Microsoft, expand Windows, and click RAC
From the View menu, click Show Hidden Tasks

Right-click RACTask and choose Enable

Close and reopen the "view reliability history" page. The entries should now be populated correctly.

---
One small request: If you liked this post, please share this?
One "tiny" share from you would seriously help a lot with the growth of this blog. Some great suggestions:
Pin it!
Share it to your favorite blog + Facebook, Reddit
Tweet it!
So thank you so much for your support. It won't take more than 10 seconds of your time. The share buttons are right below. :)
---