A desktop theme contains various settings such as cursors, icons, wallpaper, screensaver, and other UI settings. It's obvious that when one of those theme parameters is changed, Windows saves the customized setting in a separate theme file named Custom.theme, which is displayed in the Personalization window as "Unsaved Theme".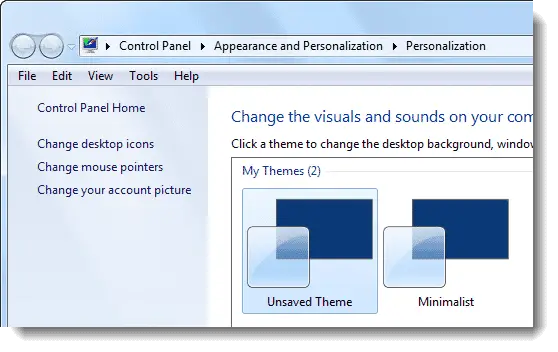 RELATED: Windows can't find one of the files in this theme error
What Causes "Unsaved Theme" to Appear in the Personalization window?
The Unsaved Theme appears if some parameters of the theme (e.g., wallpaper, screensaver, cursor, or sound file, Window color setting, special folder icons, etc.,) are modified manually or by some third-party program. It could also be caused if you delete a background wallpaper file or any other element referenced in the theme file.
For instance, you may have changed the desktop background wallpaper and then deleted your old wallpaper image file which was once a part of the theme. The current theme or any other custom theme which stills points to the deleted wallpaper image will show up as Unsaved Theme. So, editing the Wallpaper filename (and/or other theme elements paths) in your custom *.theme files should fix the Unsaved Theme problem.
Another case: If you manually changed the icon of a shell folder like My Documents, My Music, etc., Windows had recognized the default theme as a changed theme and shows up as Unsaved Theme in the Personalization window.
A Microsoft forums user
longnh
said:
"Yep, I manually changed an icon of a folder a long time ago but I didn't remember. Since then Windows 7 had recognized the default theme as "changed theme". When I applied the Windows 7 default theme, that icon wasn't restored and Windows 7 kept creating "Unsaved theme". I just changed to icon to default and the problem was gone.
Thanks Ramesh again for the great suggestion."
Additionally, if you use Bing Dynamic theme which automatically pulls down new wallpapers from the Bing servers periodically, it creates a background slideshow with the current set of downloaded images. It thus creates the Unsaved Theme containing only the currently displayed wallpaper.
If "Unsaved Theme" is reappearing automatically even after deleting the theme or by wiping out the custom.theme file, it could be a shell enhancement software running in the system and making changes to certain theme parameters (REF: Theme File Format). To know which setting is exactly being modified under the hood, you could do so using a text file compare utility like Compare It!.
Start Compare It!
Open the following folder:

%LOCALAPPDATA%\Microsoft\Windows\Themes

Select the first .theme file — the theme you were previously using.

Select the second .theme file Custom.themeAnd here comes the comparison… every change highlighted in green color.
(Fig 5, the SizeAll mouse cursor setting changed by an unknown program.)
Depending upon which theme parameter was changed and the resulting value data, you might have a clue about the program which changed the setting. If not, you may use Process Monitor to investigate.
---
One small request: If you liked this post, please share this?
One "tiny" share from you would seriously help a lot with the growth of this blog. Some great suggestions:
Pin it!
Share it to your favorite blog + Facebook, Reddit
Tweet it!
So thank you so much for your support. It won't take more than 10 seconds of your time. The share buttons are right below. :)
---