Does Explorer crash and restart every time when you open a folder window or when right-clicking a file or folder? This post tells you how to systematically troubleshoot Explorer crashes which sometimes seriously affect our workflow.
When the Explorer shell crashes, the taskbar vanishes and the desktop remains blank for a moment while the shell restarts itself. In a clean installation of Windows, this problem doesn't usually occur; but if it happens, a 3rd party module or driver is probably at fault on most occasions. Follow this basic troubleshooting checklist and you should be able to isolate the root cause.
Explorer.exe Crash Troubleshooting Tips
View Reliability History
When the shell crashes, it records the reason for the crash in the Application event log, which you can see in the Event Viewer (eventvwr.msc), or in the Reliability history in the Control Panel.
Click Start and type reliability. Click View Reliability History in the search results. In the Reliability Monitor window, look for Windows Explorer entries marked as Critical, with the Red X icon – exactly the date when a crash occurred.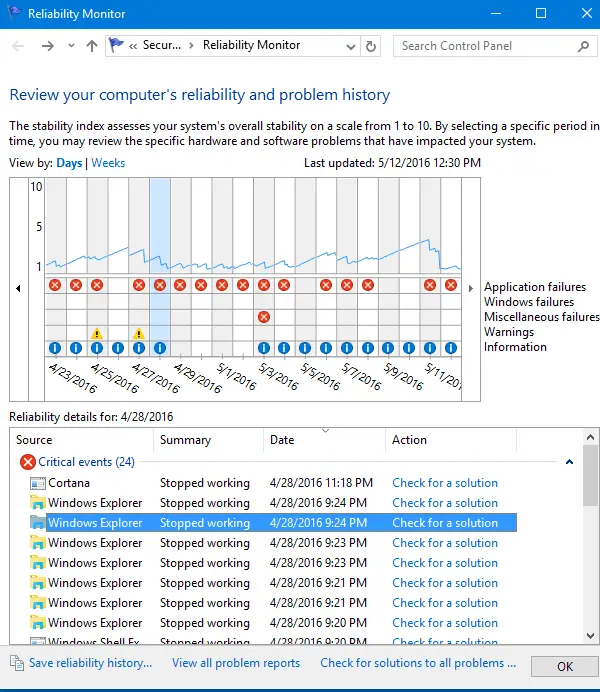 Click Check for a solution. If you're lucky, you might get some recommendations there. If it says "No new solutions found", double-click an entry to see if a faulting module (3rd party) is mentioned.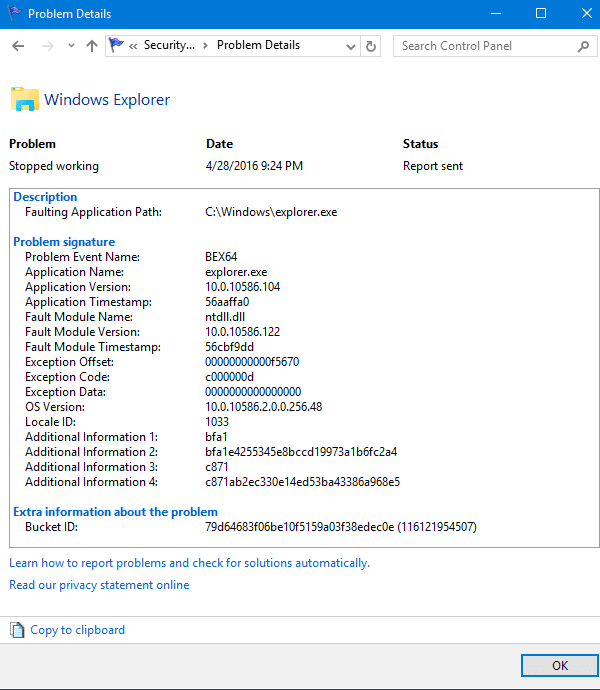 Sometimes, the exact module name which caused the crash is mentioned, and in that case, uninstalling the related software would fix the problem. But unfortunately, in the above example, the Fault Module Name is mentioned as ntdll.dll which is a core Windows module. But it's not the culprit; there is an underlying cause that needs to be found out.
Disable 3rd Party Shell Extensions
Shell Extensions are modules that attach to Explorer and load with every instance of Explorer.exe. A poorly coded 3rd party shell extension can cause Explorer to repeatedly crash.
The best way to narrow down the context menu handler (or any other type of shell extension) causing the problem is to use Nirsoft's ShellExView. To do so, see article Slow Right Click and Explorer Crashes Caused by Shell Extensions.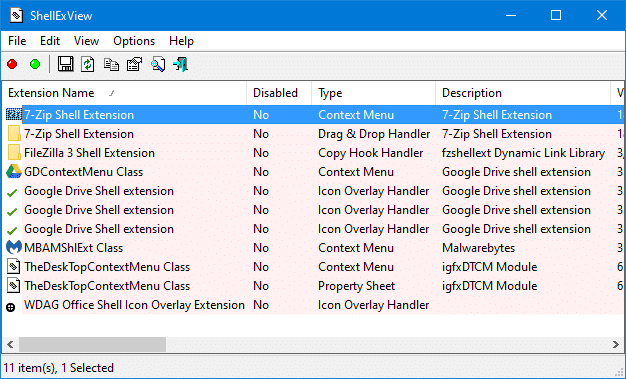 Note: You can also use Autoruns to disable 3rd party shell extensions, but I prefer ShellExView for this purpose.
Control Panel Items (.CPL files)
List out the .CPL files in your System32 and SysWOW64 directories. An outdated or incompatible module can cause Explorer to crash repeatedly. I made a batch file to output the list of CPLs from the System32, SysWOW64 folders as well as Control Panel namespace implementations in the registry.
The output file shows every Control Panel item registered in the system, from which 3rd party ones can be easily identified.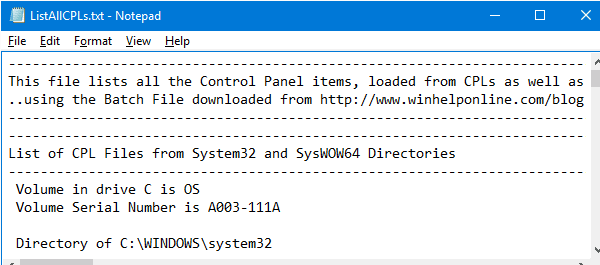 [Download] listallcpls.bat (Zipped)
Editor's note: I recently saw a case where a very old ODBC module (compiled in the year 1995) caused Explorer to repeatedly crash. It was a .CPL file present in the System32 folder, placed by an old program. ProcMon log showed Explorer crashing repeatedly every time it tried to load the module. This was going on in a cyclic loop. Clearing the .CPL file instantly fixed the issue.
If no 3rd party Control Panel items exist or eliminating them doesn't help, then move on to the next step.
Clean Boot Windows
Explorer loads modules added by 3rd party programs, through shell extensions or DLL injections. Disable all the 3rd party modules from loading with Explorer, following the instructions in Clean Boot guide. Using this method, all 3rd party shell extensions, Services, and Startup Programs are disabled and a clean instance of Explorer shell loads.
If the problem doesn't occur in a clean boot state, the next job is to find out which one of the disabled items contributed to the crash. You may need to restart Windows multiple times to test.
For detailed information, see Clean Boot Troubleshooting Using Autoruns. If the problem still occurs in a clean boot state, move on to the next step.
Create a New User Account
Create a new user account to test if the problem occurs in the new profile. Take sufficient time to test (at least 15-30 minutes or so) with the newly created profile, especially if the original issue is an "intermittent" one. If everything works fine in the new user profile, then the issue may be caused by corrupt cache files (icon, thumbnail, Quick access, etc.) in the original user profile.
Clear the Cache
Do some cleanup work in your original profile:
Update your Drivers
Check for updated drivers for your hardware, especially your video card. If you're using custom scaling, try reverting back to the default scaling level to test. An issue was reported in Windows 10 where Explorer crashed repeatedly when scaling was set to 175% or higher, in certain configurations.
Advanced Troubleshooting Options
If all else fails, here are your options (in no particular order):
Run Process Monitor, start a trace, reproduce the problem and save it to a .PML log file. Zip it and send it to a friend who can help. Check the Process Monitor tutorials.
Run a Thorough Scan for Malware. Start with Malwarebytes anti-malware and Junkware Removal Tool. If you find anything suspicious, or the tool can't remove an infestation, register with a reputed Malware removal forum and seek expert advice.
Post your issue in a Windows forum mentioning in detail what exactly you've tried earlier. If someone can help with debugging your Explorer crash dump, the root cause may be determined easily.
Consider resetting Windows, or perform a repair installation. Be sure to backup your data first, whatever repair method you may use to reinstall the Operating System.
Hope this guide helps.
---
One small request: If you liked this post, please share this?
One "tiny" share from you would seriously help a lot with the growth of this blog. Some great suggestions:
Pin it!
Share it to your favorite blog + Facebook, Reddit
Tweet it!
So thank you so much for your support, my reader. It won't take more than 10 seconds of your time. The share buttons are right below. :)
---