Windows Photo Viewer is one of the things that gets removed or hidden from access after upgrading to Windows 10. The new Photos app takes charge as the default handler for image files in Windows 10 and Windows 11.
The good news is Windows Photo Viewer application still exists in the same location in Windows 10 and Windows 11. But what is removed is only its registration.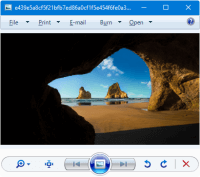 Windows Photo Viewer is a lightweight app similar to the Office Picture Manager and Windows Live Photo Gallery, both of which are discontinued by Microsoft. But, Windows Photo Viewer remains an integral part of Windows 10/11.
Windows Photo Viewer is powered by a single DLL file named photoviewer.dll located in the C:\Program Files\Windows Photo Viewer directory in Windows 11 and earlier OS.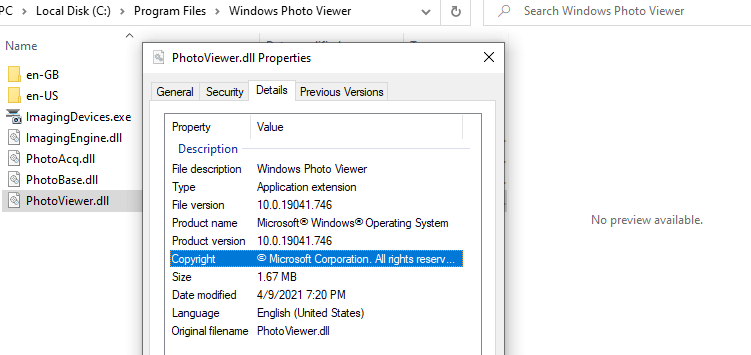 For example, this command-line will open a file named D:\sample.png using Windows Photo Viewer:
rundll32.exe "%ProgramFiles%\Windows Photo Viewer\PhotoViewer.dll", ImageView_Fullscreen d:\sample.png
Now, all we need to do is add Windows Photo Viewer file association settings to the registry. If you're not a fan of the new Photos app, you can restore the missing Windows Photo Viewer registration in Windows 10 and 11.

Restore Windows Photo Viewer in Windows 10 and 11
To preview images using Windows Photo Viewer in Windows 10, you need to add the necessary file associations registry keys. After applying the registry file listed in this article, the Windows Photo Viewer is displayed as an option in the Default Apps page and the Open With dialog.
Follow these steps to restore Windows Photo Viewer in Windows 10 and Windows 11:
Step 1) Add Windows Photo Viewer to Default Programs
Log in to a user account that has administrator rights.
Download restore_photo_viewer_windows_10.zip
Extract the enclosed file restore_photo_viewer_windows_10.reg to a folder.

Double-click restore_photo_viewer_windows_10.reg to run it.
Click Yes when asked for confirmation. Windows Photo Viewer option will now show up in Default Programs or Default Apps. The registry file adds the association settings for the following image file types:

BMP, DIB, JFIF, JPE, JPEG, JPG, PNG, TIF, TIFF, WDP, WEBP

Note that you may need to re-apply the above registry file after installing every Windows 10/11 Feature Update — e.g., 20H1, whether it's a clean install or in-place upgrade/repair install.
---
Step 2) Set Windows Photo Viewer as the default
Click Start → Settings → Apps → Default apps.
Under "Photo viewer", select Windows Photo Viewer from the list.

This associates the above image file types with Windows Photo Viewer.
To set it as the default viewer for chosen image file types only, click Choose default apps by file type and configure it accordingly. You can also use the Open with dialog to set Windows Photo Viewer on a per-filetype basis.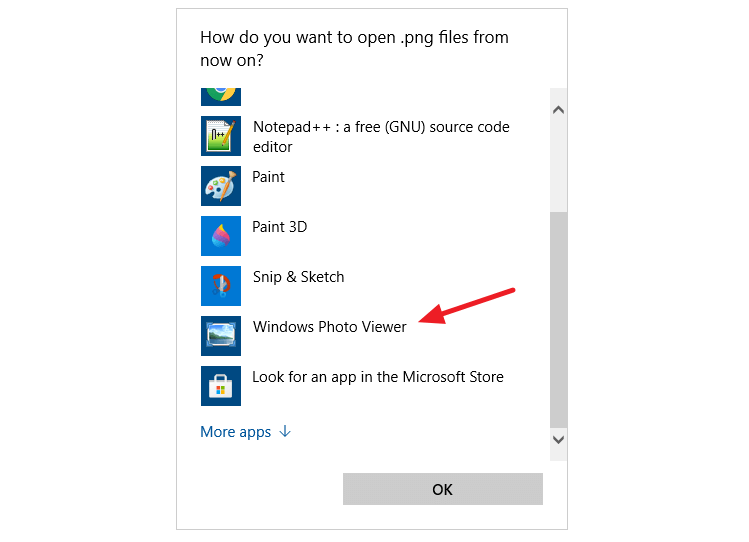 ---
(Optional) To create the registry file manually
Open Notepad and copy the following contents into it.

Save the file as "restore_photo_viewer_w10.reg"
Double-click the .reg file to apply the settings.
Microsoft is looking to transform most of the built-in Windows 10 tools and programs into modern or UWP apps. That's probably why they decided to keep Windows Photo Viewer hidden in Windows 10/11.
The above procedure works on all builds of Windows 10 and 11.
---
One small request: If you liked this post, please share this?
One "tiny" share from you would seriously help a lot with the growth of this blog. Some great suggestions:
Pin it!
Share it to your favorite blog + Facebook, Reddit
Tweet it!
So thank you so much for your support. It won't take more than 10 seconds of your time. The share buttons are right below. :)
---