When you try to add a new printer by clicking the Add a printer or scanner in the Printer & Scanners page, old printers that you added earlier but no longer in use, may be listed.
This post tells you how to completely remove old, uninstalled or obsolete printers from the Add a Printer and Printers & Scanners pages. The leftover printer drivers, driver packages and registry entries need to be removed.
How to Remove Old Printers Completely from your Computer
The old or supposedly uninstalled printers may still show up in Printers & Scanners page. In some cases, the entries may show up on the Add Printer list and not in the Printers & Scanners or the Devices page. The following procedure helps you uninstall or complete remove your old printer along with its drivers and drive store package.
To remove the old printer entries from the Add a printer or scanner as well as Printers & Scanners page, follow this procedure:
Delete old Printer drivers via Print Server Properties
Open Printers and Scanners page in Settings.
Scroll down and click Print server properties link.Tip: Alternately, you can run rundll32.exe printui.dll,PrintUIEntryDPIAware /s or printui /s /t2 command elevated (as administrator) from the run dialog or elevated Command Prompt. The commands open Print Server properties page directly.
Select the Drivers tab.

Select the old printer entry from the list, and click Remove

Select Remove driver and driver package, and click OK.

Click Delete when you see the Remove Driver Package confirmation prompt.

Remove old printers via Print Management
The Print Server properties method should do the trick. As an alternative, you can use the Print Management console to remove old printers and their drivers. Print Management is a Microsoft console which lets you view and manage printers and print jobs on the computer.
Open Print Management via Start Search. Or run the command printmanagement.msc to launch Print Management.
Select All printers section.
Right-click on the old printer if listed in the right-pane, and choose Delete.
Select All drivers.
Right-click on the old printer, and click on the option Remove driver package or click Delete.

Delete old printers using the Registry Editor
Even after you uninstall and delete the printers using the above methods, the Add a printer page may still show up your old printers. You need to edit the registry to remove the remnant entries.
Create a System Restore point.
Right-click Start, click Run. Type regedit.exe and press ENTER. This opens the Registry Editor.
Go to the following registry key:

HKEY_CURRENT_USER\SOFTWARE\Classes\Local Settings\Printers\Roamed

In the right-pane, right-click the printer you want to remove, and choose Delete.
Do this for every other printer you want to remove.
Also, check the printer entries under the following key and delete the unwanted item(s):

HKEY_CURRENT_USER\Printers\Connections

Go to the following key:

HKEY_LOCAL_MACHINE\SYSTEM\CurrentControlSet\Control\Print\Printers

Expand the key and select the old printer listed under the key.
Right-click on the old printer and choose Delete.

Additionally, one of the following subkeys may contain references to your old printers. You may want to clear that as well:

HKEY_LOCAL_MACHINE\SYSTEM\CurrentControlSet\Control\Print\Environments\Windows NT x86\Drivers\Version-3
HKEY_LOCAL_MACHINE\SYSTEM\CurrentControlSet\Control\Print\Environments\Windows x64\Drivers\Version-3
HKEY_LOCAL_MACHINE\SYSTEM\CurrentControlSet\Control\Print\Environments\Windows x64\Drivers\Version-4

The registry had references to my old inkjet printer HP F4488 (F4400 series). I had to delete it and its driver store using earlier methods, as I've replaced the HP with a Canon G2012 series printer recently.

Exit the Registry Editor.
Delete driver packages from the driver store to free up disk space
Even after removing the driver packages using the methods above, some remnant drivers may exist in the driver store. The driver store is a trusted location of the inbox and third-party driver packages. Before a driver can be installed, it must first be stored in the driver store folder located under C:\Windows\System32\DriverStore\FileRepository
Each subfolder stores a driver package along with the respective .inf file. The driver store folders have cryptic names and it's a tedious job to find the driver package you want to delete.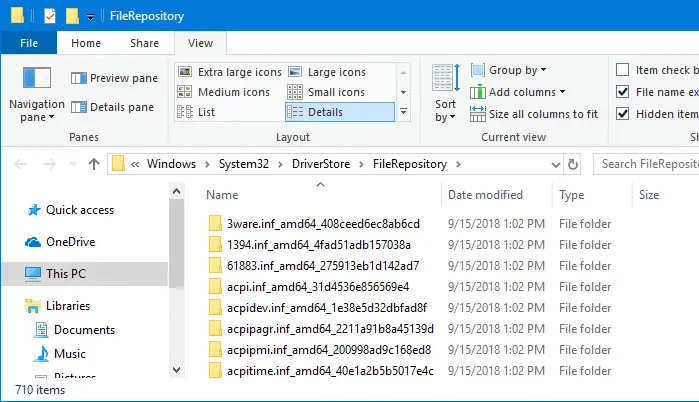 Thankfully, we have the excellent DriverStore Explorer tool that does the job for you.
DriverStore Explorer [RAPR] is a third-party program that makes it easier to deal with the Windows driver store. It supports operations including enumeration, adding a driver package (stage), adding & installing, deletion and force deletion from the driver store.
If you look at this image, you can see that there is till 9 MB of HP printer drivers leftover. This happened even after I removed the driver packages via Print Server Properties. Evidently, those two methods weren't enough.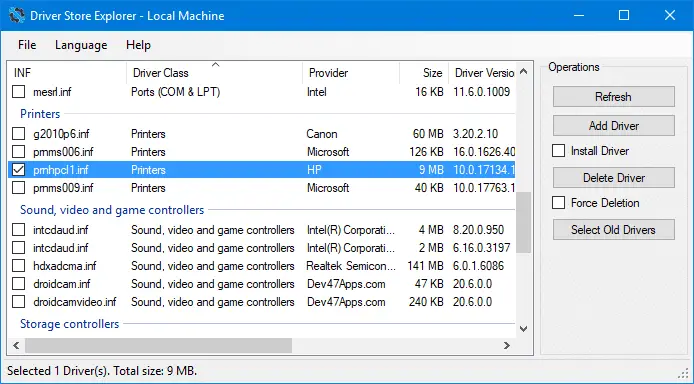 All I had to do was select the old HP printer driver from the list, click Remove. Click OK when you see the following warning:
Warning
About to delete prnhpcl1.inf (oem32.inf) from driver store.
Are you sure?
This removed the old HP printer's .inf file, its driver package thus saving 9 MB of space.
Hope the above methods helped you completely remove old printer entries, the drivers and driver packages from your Windows computer.
---
One small request: If you liked this post, please share this?
One "tiny" share from you would seriously help a lot with the growth of this blog. Some great suggestions:
Pin it!
Share it to your favorite blog + Facebook, Reddit
Tweet it!
So thank you so much for your support, my reader. It won't take more than 10 seconds of your time. The share buttons are right below. :)
---
About the author
Ramesh Srinivasan founded Winhelponline.com back in 2005. He is passionate about Microsoft technologies and he has been a Microsoft Most Valuable Professional (MVP) for 10 consecutive years from 2003 to 2012.