Microsoft Technical Support has a new "Windows Self healing tool" (or "Windows Software Repair Tool") which resets the system configuration, reinstalls main system apps, repairs system files and fixes Windows Update issues.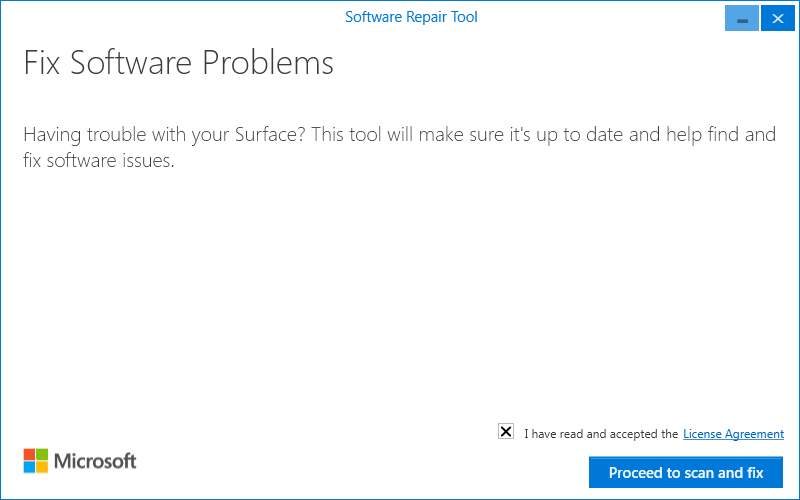 Here is a detailed report on what the tool does exactly.
The opening screen of the tool reads: Fix Software Problems — Having trouble with your Surface? This tool will make sure it's up to date and help find and fix software issues.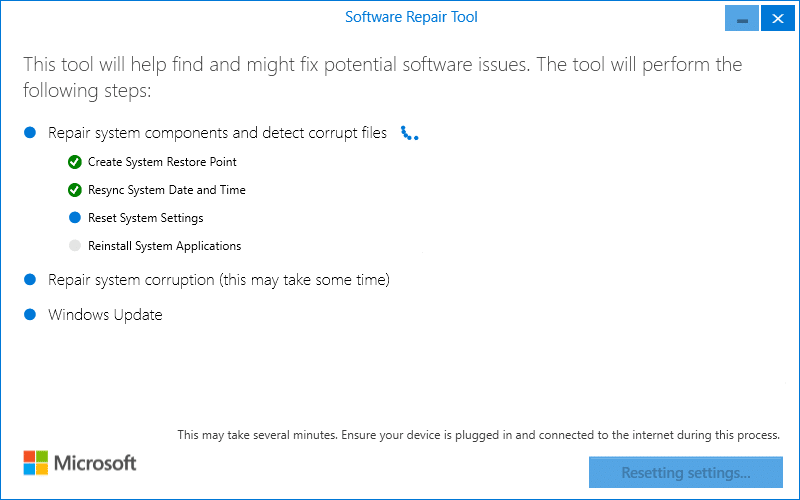 The tool says it performs the following operations:
1. Repair system components and detect corrupt files
Create System Restore Point
Resync System Date and Time
Reset System Settings
Reinstall System Applications
2. Repair system corruption
3. Windows Update
I gave this tool a shot in my test machine, and observed what it does.
Highlights
First, it creates a System Restore point – that's a good thing. Windows 10 upgrade disable System Restore by default, and this tool enables System Restore for the system drive before attempting to create a restore point.
Note that if a recent restore point exists (created within last 24 hours), no restore point is created — which is the default behavior in Windows 8 and higher.
1. Starts the Windows Time service and syncs the system date and time using (w32tm.exe /resync)
2. Reinstalls *System* App packages using PowerShell. all the bloatware will be back.
3. Resets Winsock, proxy settings & the firewall settings
4. Resets WSUS cookie/authorization. (wuauclt.exe)
5. Resets Windows Store using wsreset.exe
6. Runs the "WindowsUpdate\Automatic App Update" Scheduled Task.
7. Resets the Security Descriptor for Windows Update and BITS services
8. Stops these 5 system services: Windows Update, BITS, Cryptographic Services, Application Identity, Update Orchestrator service for WU
9. Deletes qmgr*.dat files from "Network\Downloader\" folder
10. Deletes SoftwareDistribution and Catroot2 folders
11. Registers these DLL files:
atl.dll
urlmon.dll
mshtml.dll
shdocvw.dll
browseui.dll
jscript.dll
vbscript.dll
scrrun.dll
msxml.dll
msxml3.dll
msxml6.dll
actxprxy.dll
softpub.dll
wintrust.dll
dssenh.dll
rsaenh.dll
gpkcsp.dll
sccbase.dll
slbcsp.dll
cryptdlg.dll
oleaut32.dll
ole32.dll
shell32.dll
initpki.dll
wuapi.dll
wuaueng.dll
wuaueng1.dll
wucltui.dll
wups.dll
wups2.dll
wuweb.dll
qmgr.dll
qmgrprxy.dll
wucltux.dll
muweb.dll
wuwebv.dll
usocore.dll
12. Performs component cleanup using DISM
13. Repairs Windows image using PowerShell/DISM (RestoreHealth)
14. Runs Sfc /Scannow
15. Restores default power schemes.
16. Runs Windows Update after a reboot, and also updates Defender.
That lists most of the things done by this tool – it's comprehensive and may be a overkill depending upon what you use this tool for. It would have been better if they include checkboxes for each operation so that you can perform a particular or a set of operations to fix a specific issue you may be facing.
Download link: New MS Tool to repair problems with Anniversary Update available – Microsoft Community
---
One small request: If you liked this post, please share this?
One "tiny" share from you would seriously help a lot with the growth of this blog. Some great suggestions:
Pin it!
Share it to your favorite blog + Facebook, Reddit
Tweet it!
So thank you so much for your support. It won't take more than 10 seconds of your time. The share buttons are right below. :)
---
Post last revised on 8-21-2016 to make it more accurate. It's possible that this tool performs additional repairs along with the tasks listed in this post. Hope Microsoft releases a clear documentation on this tool.