When you're playing a game or using an application that's better optimized for full-screen mode, the taskbar can be a distraction. You can set the taskbar to auto-hide using taskbar Properties or Settings window in Windows 10, by enabling "Auto-hide the taskbar" checkbox.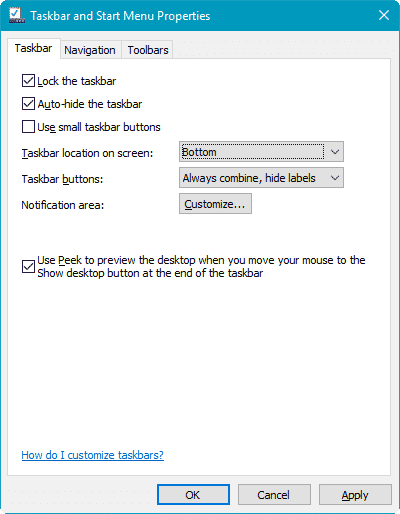 In Windows 10 Settings, the option is called Automatically hide the taskbar in desktop mode. With the taskbar auto-hide option enabled, when you move the mouse pointer to the bottom of the screen, the taskbar pops up automatically. Especially when gaming, you don't want the taskbar to pop-up at all. This post tells you how to completely hide the taskbar in Windows 10 and earlier.
How to Completely Hide the Taskbar?
NirCmd is a multi-purpose command-line tool that can help you hide the taskbar or any program window. It can hide or show programs, based on the title bar text or Window class.
The following command hides the Taskbar completely.

Before hiding the Taskbar using NirCmd, make sure you also enable the Auto-hide setting in Taskbar properties, so that the screen space occupied by the Taskbar can be utilized. Otherwise, space would appear blank and programs can't use that screen space.
nircmd.exe win hide class Shell_TrayWnd
To show the taskbar, use the show option:
nircmd.exe win show class Shell_TrayWnd
To show/hide (toggle) the Taskbar, use this command-line:
nircmd.exe win togglehide class Shell_TrayWnd
Shell_TrayWnd is the Window class name for the taskbar. You may create a desktop shortcut(s) for the above, and assign hotkey as required. For example, Ctrl + Alt + T to hide/show. You can still access the Start menu by pressing F3 or WinKey.
See NirCmd Command Reference for more information.
---
One small request: If you liked this post, please share this?
One "tiny" share from you would seriously help a lot with the growth of this blog. Some great suggestions:
Pin it!
Share it to your favorite blog + Facebook, Reddit
Tweet it!
So thank you so much for your support. It won't take more than 10 seconds of your time. The share buttons are right below. :)
---