One of our readers faced a problem where the Windows Event Log failed to start, and as a result, a couple of other services failed as well. Attempting to start the Windows Event Log service manually via the Services MMC resulted in error 4201. The complete error message is provided below:
Windows could not start the Windows Event Log service on Local Computer.

Error 4201: The instance name passed was not recognized as valid by a WMI data provider.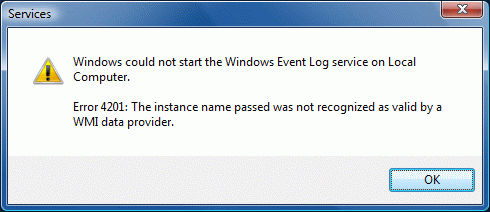 And the following errors popped up when opening the Event Viewer and Task Scheduler.
Event Log service is unavailable. Verify that the service is running.

Task Scheduler service is not available. Task Scheduler will attempt to reconnect to it.

Upon checking the Event Log service registry key and values, they were intact. Eventually, the problem turned out to be the incorrect permissions for the C:\Windows\System32\LogFiles\WMI\RtBackup directory. The SYSTEM account needs full control permissions for the directory — only then the Windows Event Log service would start. Note that I didn't have to rename or delete the RtBackup directory.
Solution for Event Log Service Error 4201
Fix the Permissions for RtBackup Folder
Start Windows in Safe mode.
Open the "C:\Windows\System32\LogFiles\WMI" folder.
Right-click on the RtBackup folder and choose Properties.

Click the Security tab, and click the Edit button.

Click Add.

Type SYSTEM and click OK.

Enable "Full control" Permission to "Allow."

Click OK, and then click Yes when asked for confirmation.

Restart Windows (in normal mode), and verify if the Windows Event Service has started.

Unable to assign permissions for the RtBackup folder?
If you're unable to assign permissions for the RtBackup folder, try taking ownership of the folder and then repeat steps 1-9 above.
---
One small request: If you liked this post, please share this?
One "tiny" share from you would seriously help a lot with the growth of this blog. Some great suggestions:
Pin it!
Share it to your favorite blog + Facebook, Reddit
Tweet it!
So thank you so much for your support. It won't take more than 10 seconds of your time. The share buttons are right below. :)
---