When your anti-virus program shows the message "Device Census is using your webcam" or "Webcam Access Blocked" (referencing DeviceCensus.exe), you are be worried if some malware has infected your system. For example, Kaspersky Total Security, ESET or any other anti-virus program you've installed may warn you about some program trying to access your webcam.

This post tells you what Device Census is and how to get rid of the message.
What is Device Census (DeviceCensus.exe)
First of all, there should be no worries, as DeviceCensus.exe is a legit Microsoft executable present in Windows 10 computers.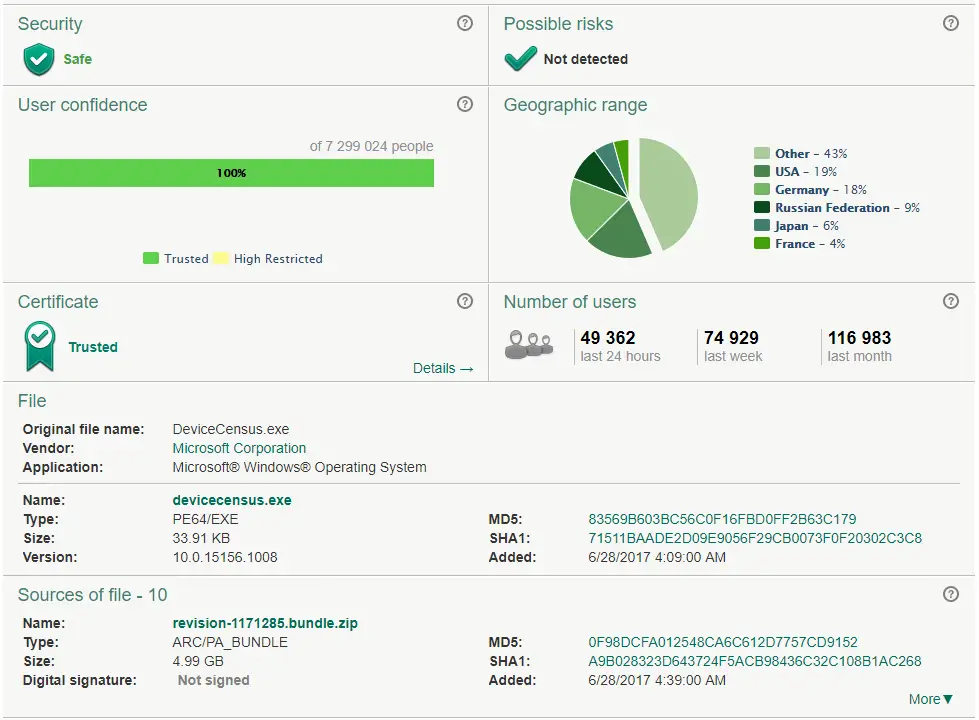 Windows 10 contains a Telemetry service that reports back to Microsoft on hardware usage, errors, etc. Device Census (background process) is part of that Telemetry Framework, and the process is only gathering data on your usage of your webcam. Quoting Microsoft Support Engineer Jason [MSFT] via Microsoft Community – "What is Device Census?"
In order to target builds to your machine, we need to know a few important things:

– OS type (home, pro, enterprise, etc.)

– region

– language

– x86 or x64

– selected Insider ring

– (etc)

This is the background process that runs to check your machine and tell us which build we should send to you.
Device Census, in a nutshell:
"Device Census" is a telemetry process from Microsoft.
This will analyze the use of the webcam and other components.
The data will be transmitted to Microsoft.
The data transfer happens anonymously.
No recordings are made. It only checks how often the devices are used.
The collected data should help Microsoft to optimize Windows for future versions and to fix bugs.
Stop Device Census Scheduled Task
Windows 10 runs devicecensus.exe via two scheduled tasks located under the following branch in Task Scheduler:
Task Scheduler Library → Microsoft → Windows → Device Information

The tasks are named Device and Device User. The task named Device is scheduled to run once daily, and Device User is scheduled to run once during user login. They run the commands devicecensus.exe SystemCxt and devicecensus.exe UserCxt, respectively.
Some users have had success disabling the above tasks to stop devicecensus.exe from running automatically.
(However, as Microsoft says devicecensus.exe collects telemetry data which is useful in targetting builds your computer, disabling the tasks or blocking devicecensus.exe using a firewall outbound rule is not officially recommended.)
Block Device Census Access to your Webcam
If you want to restrict this access to your webcam, use the Settings dialog in Windows 10.
Click Start, Settings (or press WinKey + i)
Click "Privacy" and then click "Camera"
In " Choose which apps can access your camera," disable "Feedback Hub."

Disabling the setting will stop telemetry from accessing or gathering data on your webcam usage. See also: Prevent Specific Apps from Using the Camera in Windows 10
Stopping DeviceCensus.exe with an outbound firewall rule
Another way to stop devicecensus.exe from transferring telemetry data is by creating an outbound rule using the Windows Firewall with Advanced Security (wf.msc) snap-in.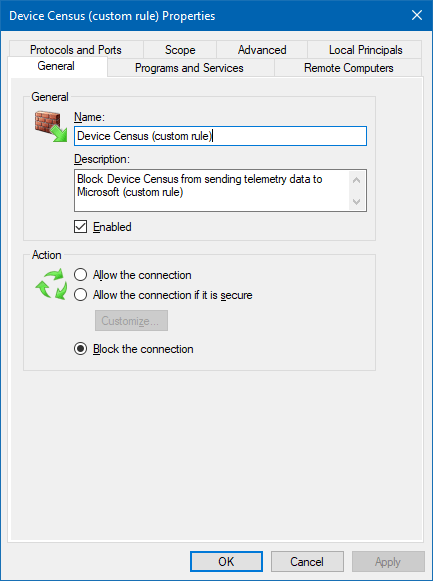 If you're still worried about some third-party app accessing your camera, you can stick black tape over the camera.
If doing this you might consider cutting a small piece of tape that is only just big enough to cover the camera lens and sticking that (sticky-side to sticky-side) onto a larger length of tape which you will stick over the camera lens. This would stop the adhesive actually going onto the camera lens (and the little camera-in-use light that is beside it – you don't want to damage the lens in case, later on, you want to use the camera or sell the computer.

Remember that when deciding on the length of the larger piece of tape there may be two other little holes either side of it (e.g. on HP Laptops like mine) which are the internal microphones. You may or may not want to cover these depending on whether you use the microphones (or are worried about remote access to them by eavesdroppers). If you decide to cover them you may want to protect them with another small piece of PVC tape as described above. ~David ("safe-david" on Microsoft forums.)

To see which program is currently accessing your camera, check out the article Find Which Program is Using Your Webcam.
---
One small request: If you liked this post, please share this?
One "tiny" share from you would seriously help a lot with the growth of this blog. Some great suggestions:
Pin it!
Share it to your favorite blog + Facebook, Reddit
Tweet it!
So thank you so much for your support. It won't take more than 10 seconds of your time. The share buttons are right below. :)
---