The Date/Time or the tray clock is shown by default in the Notification area. If it's missing suddenly, here is how to add it back:
Right-click notifications area in the Taskbar and click "Customize notifications icons"
Click Turn system icons on or off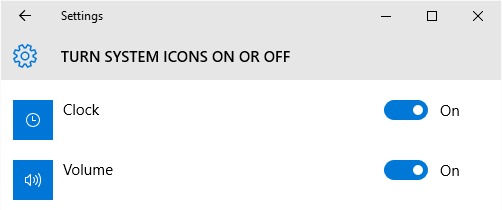 Enable the Clock toggle button
Taskbar fonts turned black and the clock is invisible?
It is possible that the high contrast setting or an incompatible custom/third-party theme has enabled black colored font for the taskbar. As a result, it makes it difficult to see the date/time section in a black taskbar.

It may appear as though the clock is missing.
To restore the default color setting (white font):
Turn off high contrast setting under Settings, Personalize, Ease of access.
And then, open Settings, Personalization, Themes. Select the Windows theme.
Additional Tip: Some users have suggested that disabling "Use small taskbar buttons" option in Taskbar settings makes the white font to appear.
In the newer versions of Windows 10 (e.g. 2004), there is a color mode setting (dark or light) that can fix the issue.
Open Settings, Personalization, Colors.
Select the light or dark option under "Choose your color".

Hope one of the above methods helped you enable the visibility of the taskbar clock in Windows 10.
---
One small request: If you liked this post, please share this?
One "tiny" share from you would seriously help a lot with the growth of this blog. Some great suggestions:
Pin it!
Share it to your favorite blog + Facebook, Reddit
Tweet it!
So thank you so much for your support. It won't take more than 10 seconds of your time. The share buttons are right below. :)
---