User Accounts applet is completely blank, or displays raw HTML code
User Accounts applet is completely blank, or displays raw HTML code
Ramesh Srinivasan
August 13, 2006
Symptom
Whenever you attempt to open the User Accounts applet in the Control Panel, the User Accounts dialog pops up, but the page may be empty or filled with raw HTML code. Also, the normal menu options may be missing in the applet.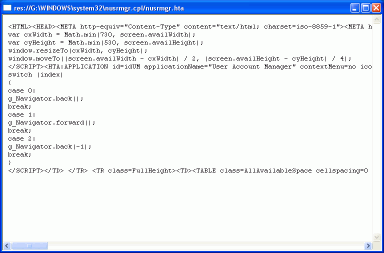 Resolution
To resolve the problem, download the VBScript (useraccfix.vbs) file available at the bottom of the page, and save to Desktop. Double-click the file to run it. The script fixes the User Accounts applet automatically.

If you enjoyed this post, make sure you
subscribe to our RSS feed
! We feature Tips, Troubleshooting information, Scripts and Utilities for Microsoft Windows Operating Systems!

Prefer an E-mail subscription?