Favorite Links in the Windows Explorer navigation pane is completely empty
Symptom
When you open Windows Explorer, the Favorite Links area may be completely empty (as shown in the figure below), even though the %userprofile%\Links folder contains the actual shortcuts. Normally, the Favorite Links area displays the list of shortcuts present in the %userprofile%\Links folder. Where %userprofile% represents your user profile home folder, which is typically C:\Users\{username}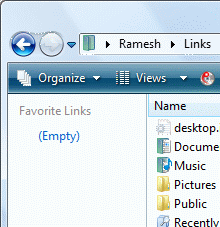 Resolution
This happens if the IsShortcut registry value for .lnk files (Shortcuts) is deleted in an attempt to hide the overlay icon in shortcuts. To resolve the problem, re-create the IsShortcut registry value.
Method 1
Download and apply the .lnk file association fix from the following link:
File association fixes for Windows Vista
Method 2
Click Start, type regedit.exe and press ENTER
Navigate to the following key:
HKEY_CLASSES_ROOT\lnkfile
In the right-pane, create a String value (REG_SZ) named IsShortcut
Close Registry Editor and restart Windows.
More information
To remove the shortcut arrow in Windows Vista, see article How to remove or modify the Shortcut overlay in Windows Vista

If you enjoyed this post, make sure you
subscribe to our RSS feed
! We feature Tips, Troubleshooting information, Scripts and Utilities for Microsoft Windows Operating Systems!

Prefer an E-mail subscription?